What Inventors Can Learn from Shark Tank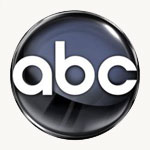 Shark Tank is Friday night television's #1 show and must-see-tv for every inventor and entrepreneur.  Airing at 8:00pm ET, the show's concept gives unknowns in need of venture capital a chance to pitch their new product ideas to five "filthy rich" Sharks who got their money the hard way – they earned it all themselves.
The Sharks listen to the various product presentations, ask questions, negotiate with the inventor as well as against the other Sharks, and in the end, either invest their own money or pass on the opportunity.  Swimming with the Sharks is not for the meek, it can be brutal.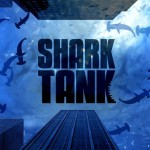 Shark Tank is presently in its third season.  The television show is another hit from Mark Burnett who has perfected the reality TV genre.  The show is an American adaptation of Dragon's Den, a British television show also seen in Canada.
Both Shark Tank and Dragon's Den are metaphors for Mark Burnett's actual life.  Burnett, a young British military vet, arrived in the United States in 1987 with only a couple hundred dollars in his pocket.  Just like the people on his shows, Burnett came to America looking for a chance to cash in on the American Dream.
As Burnett tells it, the chance for anyone from anywhere to make it big is what brings people to the U.S.:  "America is, has always been, and will always remain, the greatest opportunity to people. I'm an American citizen now. I have three American kids. I love this country, and it's funny that I'm sitting here today, talking about 'Shark Tank,' which has the same value system. It's things like this that drive America– small businesses."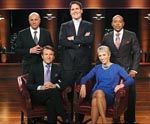 Who are The Sharks?  The cast of five, self-made multi-million/billionaires, have changed a bit over the years as Sharks rotate in and out.
The three most tenured Sharks are: Robert Herjavec, a first generation immigrant from Yugoslavia who started selling newspapers as a boy and now has a net worth of over $400 million running Canada's fastest growing technology company; Daymond John was raised as an only child by his mother in the New York City borough of Queens and went on to create a clothing and branding fortune with his FUBU line; and, the last Shark in the core group is Kevin O'Leary, sometimes known as "Mr. Wonderful," a software entrepreneur who started a company with no money in the basement of his home that he later sold for $3.7 billion.
The 2011-12 television season has seen two women Sharks occupy the same seat at different times.  The two women are: New York City businesswoman Barbara Corcoran who took a $1000.00 loan in 1973 to leave a secure school teaching  job and start a diversified real estate company that she sold in 2001 for $66 million; and Lori Greiner, who has earned the unofficial title of "Queen of QVC" as host of her own shopping network show Clever & Unique that grosses millions of dollars creating and selling hundreds of products and patent holder of 110 United States and International patents.
Rounding out the cast of Sharks is Mark Cuban who is the out-spoken, bigger than life, computer/internet genius and owner of the Dallas Mavericks World Champion Basketball Team.  Cuban has the show's star power in abundance.  He's good-looking, confident and not to be denied if there is an investment he wants.  Cuban's first job after college was selling software from which he was soon fired.  Not to be deterred, he persevered and started AudioNet which evolved into Broadcast.com that he sold in 1999 for $5.9 billion in Yahoo stock.  Today, Mark Cuban is listed as the world's 459th richest person.
It is always important to remember while watching Shark Tank that the show is first and foremost an entertainment vehicle for broadcast, prime time television.  Although much of the show is based on business realities, the real world isn't neatly broken down into success or failure within 15 minute segments.  Real business deals, and real successes, take a great deal of blood, sweat, tears and time.
There are valuable lessons to be learned by watching the television show.  When inventors/entrepreneurs get their shot in the Shark Tank, or with any investor anywhere, they need to quickly be able to:
be likable;
deliver a confident "elevator pitch";
provide a realistic business valuation;
have the right patents, copyrights or trademarks filed;
remember your ABCs – "always be closing."
.
If you are a budding inventor or a small business entrepreneur in search of investment capital, you definitely need to program your DVR to record every episode of Shark Tank.  Although the television show is edited for mass viewing appeal, there are a lot of valuable lessons to be learned and critical mistakes to be avoided.