Industry Tradeshow Tips For Inventors
Industry tradeshows are always a hot topic for inventors. This article will focus on the large industry tradeshows that occur once a year at big convention centers in major cities, our goals for attending these shows and advice for novice inventors wanting to be a part of these tradeshows.

Let's focus first on the main purpose for the event. There are 2 vital reasons for the show:
For Buyers to attend to find products to put into their brick and mortar or eCommerce stores to drive more retail sales
For Exhibitors to display their products to buyers hoping that they select their product to drive more retail sales

The tradeshow sells space at the show and is looking to fill as much space as possible so they can stay in business. The cost for an Exhibitor to rent space at these shows can get pricey. For example, a simple 10' x 10' booth (generally the smallest size) at a major industry tradeshow will run in the neighborhood of $5,000 to $7,000. That is just empty space – on a concrete floor – during the show. Want carpet? Add $1,000. Chair?  $75 more per day. How about a table? $125/ day. Need brochures, order forms, etc? The costs keep adding up, and this does not include money for airplane flights, hotel rooms, food, staffing the booth, and so much more.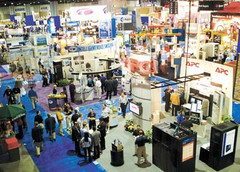 A small booth, run very economically, will still be in the $10,000 to $20,000 range. This is assuming that the inventor has inventory to sell which would have already cost tens of thousands of dollars. It is not unusual for a major brand to spend upwards to $100,000.00 on a 3 day tradeshow.
Needless to say, the Exhibitors spend a lot on these shows expecting to earn back their investment and then some.
Their objective at the show is to woo the buyers into purchasing their products. Inventors just walking the floor at a tradeshow must be aware not to disrupt a company's business activities at the show or they can forever kill a potential relationship. Our approach is to set-up meetings with companies at these shows in advance. This way we'll have enough time to make our pitch without becoming an unwelcomed intrusion. Our staff will also walk the show and approach new companies using the utmost in business courtesy. We use tradeshows to identify trends in the marketplace, make new connections in the industry, reconnect with companies where we have a relationship and present elevator pitches on client products to potential licensees.
Tradeshow preparation and follow-up is key for us to have a productive tradeshow. It is uncommon to expect to make a deal during the show.
If you are an inventor and would like to attend a major industry show, we recommend walking the show and taking it all in first. It is cool to see the new products before they hit the stores and seeing business deals being done. If you want to approach a prospective company about partnering with your invention during the show, be prepared with a short and rehearsed elevator pitch on your product and follow-up with them after the show.