Goodbye "First To Invent" – Hello "First To File"
The United States changes from a "First To Invent" system to a "First To File" on March 16, 2013.  Accompanying this change, is the end, as we have come to know it, of the One-Year Grace Period to file.  Life will definitely change particularly for the small-entity, and micro-entity inventor.  The new emphasis will be to file first and then figure out if there's a market later.  So it's "Goodbye to 'First To Invent' and Hello to 'First To File'."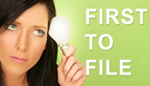 The current system has permitted the earliest inventor with proper documentation to have priority rights for one year before filing for a United States patent.  Filing first was not the determining factor.  Your Invention Guru has taken the position that the "First To Invent" system allowed an individual inventor to better compete with large corporations.  Likewise, the new "First To File" system can be expected to favor companies with sufficient funds to prepare and file multiple patents.
Beginning March 16, 2013, all patent applications will be governed by the "First To File" provisions as prescribed by the America Invents Act.  No longer will the first inventor have any special standing, it will simply be whoever files first.  Of course, the new system will be simple to adjudicate compared to the "First To Invent."  The question to be answered is whether the small and micro entity inventors are being legislated out of the patent system causing repercussions to the American economy.
Also becoming a patent dinosaur will be the One Year Grace Period.  Under the "First To Invent" system, an inventor has one full year following public disclosure to decide whether to file a patent without losing their patent priority rights.  Historically, the one year grace has provided inventors, especially individual inventors, with time to gauge the commercial potential of their invention before investing in patenting and promotion of the invention.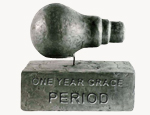 Although a limited grace period for invention disclosures will remain under the new system, the advantage to the individual over the corporation will greatly diminish.  In practical terms the new grace period fails to protect anything approaching "First To Invent" rights.  For example, an inventor presenting an unpatented product at a trade show risks even an article on the invention idea being published the next day causing the inventor a potential patentability problem.
Starting March 16, 2013 inventors should seriously consider filing an "enabled" patent application as soon as possible to establish the "first to file" earliest date.  "Enabled" meaning that someone with ordinary skill could build and use the invention from a technical description provided in the patent application.  As always, the best patenting advice is to consult with a registered patent attorney/agent as early as possible.